I subscribe to a weekly newsletter called Texas Gardener's Seeds. This week they talked about one of the selected 2010 Texas Superstars: Grandma's Yellow Rose. Dr.
Stein and his fellow horticulturists named the new Texas Superstar in honor of Stein's grandmother, Tillie Jungman, who loved the yellow rose and helped grow test varieties in her garden near Castroville.
What is significant about Grandma's Yellow Rose is that it does not incur black spot so you do not have to spray it as much as regular roses. It takes root very well and performs well in alkaline clay soils. Another wonderful aspect of the rose is that it blooms from Spring 'til Frost! Now that would be a nice little gift for the garden during the scorching summer days.
I need to find out where to purchase Grandma's Yellow Rose for farmer-man and my's next Valentine. We buy a rose bush each Valentine's. Then we'll know how many years we have been together. Ha! Interesting enough, the article says it is also a great "Valentine's Rose" because of Grandma's long stem and flower design. Very fitting if you ask me!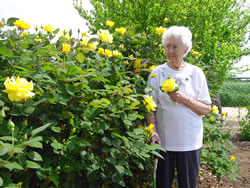 There's Grandma Tillie!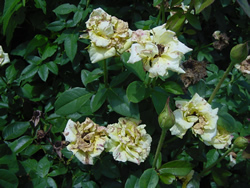 All stages from deteriorated blooms to new buds in the '07 rainy spring at College Station did not cause black spot damage on 'Grandma's Yellow'.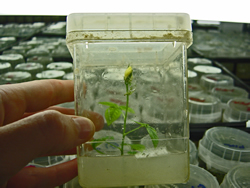 'Grandma's Yellow' Rose WANTS TO Bloom even in tissue culture in a test tube.