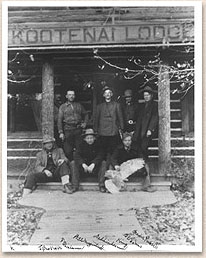 I embarked on another adventure the other day to visit the Kootenai Lodge designed by Kirtland Cutter..the same architect I talked about in my previous posts---freshman architecture class...projects..mcdonald lodge, etc.
This one was more intimate and closed to the public. Designated as one of 2005's top 11 most endangered historical places by the National Trust for Historic Preservation, the structure has just recently been restored after many years of neglect. Now it is in pristine condition. Only for about 5 million bucka-a-roos and $25,000 in HOA fees (annually mind you!) you too could wine and dine in this historic lodge that overlooks swan lake while tucked away in the wise old pine trees.
It reminds me of the same idea about Old Mill Crossing yet much more extravagant. Historic concepts and building new to incorporate and honor the past and the land. From moose to goose the developers were still able to salvage the animal mounts on the wall and also the baby grand piano and the pool table. All original since 1919.
There was a group of retired school teachers that were on the tour as well. They took me under their wing and were just a delight to talk to. They had design questions and I was able to help them so they got tickled with me.
One of the retired school teacher's aunt and uncle were the caretakers of the property back in the 50s and 60s. So she had some nice memories of visiting the grounds back then...my how things have changed.
Another lady, a native Netherlander, reminded me soooo much of Gramma it was was crazy! The things that she said and also her looks. I'll quote a couple of lines:
" Ohh a 'Y' in a tree...I bet there is money buried underneath that tree!"
"If you were unhappy and was able to move here...do you think you would become happy?"

"Ohhh my, more things to dust!" <----very logical!
I spent 2 hours out there and very much enjoyed it. It could be just a fancy development but the historic value is what separates it from the others. They have pictures of the Copper King families that built the lodge displayed throughout the lodge. They owned the Anaconda Copper Mining Co. and were making 1 million dollars a day! John D. Rockefeller, Charles Lindbergh, Will Rogers, the famous western artist, Charlie Russell were just a few of the big wigs that stayed here. Charlie Russell's last painting that he ever did (that was never completed either) was named the Kootenai Lodge...it just sold for 4 million dollars.
One of the daughters of the Copper Kings is still alive.. at 90 years old she came out to the Lodge and took a tour of the grounds. She was so happy to see the lodge fully restored for she stayed here many of summers as a young girl. She broke down in tears when she saw the old merry-go-round. Her grandfather had bought her the merry-go-round for her 5th birthday..and it was still here for her to see. Now that is love.
I wouldn't mind taking the tour again..may learn some more things and notice a couple other design ideas.